Unorthodox (EP)

Official album cover created by Kenal Louis

Released:

September 24th, 2013

Recorded:

2011-2013

Genre:

Alternative Hip-hop
Electronic

Length:

19:31

Producer:

N Pa
DJ Darkside

Label:

Independent

preceded by:

Feel Your Love: The Lost Demo EP
Unorthodox is the fifth EP by N Pa. An Alternative hip-hop/Electronica album, it was released independently on September 24th, 2013, along-side his second studio album, The Ghost Within: The Tale of Turmoil.[1][2][3]
Background and Artwork
Background on the album was released on N Pa's Tumblr.
[4]
The album's cover was created by Pierre Kenal Louis.
[5]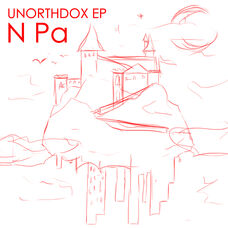 Singles
The first single, Who Am I (In The Mirror) was released on December 18th, 2012 as a free download.[6] The second single, MapQuest was released on April 19th, 2013.[7]
Who Am I (In The Mirror) (December 18th, 2012)
MapQuest (April 19th, 2013)
Sequel
A sequel entitled Unorthodox II: The Revival is in development.[8]
Track Listing

1. I'm Still Here (Intro) – 0:42
2. Who Am I (In The Mirror) (feat. Numerous and Stacey Dee) – 5:00
3. My Darling (feat. Complex and Kobrah) 4:20
4. MapQuest (feat. Skyy Royal) – 2:55
5. Sitting, Waiting, Wishing (feat. Skyy Royal) (Remix) - Jack Johnson – 3:10
6. Isn't That Cute (Outro) – 0:31
7. Night People (feat. Cameron Haynes) [Produced by DJ Darkside] (Bonus Track) – 2:50
Samples
Personnel
Writers:
Jake Student on Track 2
Gabriel Torres and Steven Smith on Track 3

Cielo Smooth on Tracks 4 and 5

Cameron Haynes on Track 6
Production:
Nicholas Pavoni on Tracks 2, 3, 4, and 5
Mark Liebrand on Track 7
Mixing/Mastering:
Mixing done by Nicholas Pavoni
Mastering by Joshua Steffen on Track 5
Mastering by Alex Fooks[9] and Lil Louie C on Track 7
References